Attending UPW Virtual was one of the best experiences of my life! I started out by listening everyday to the NWNY challenge, (this was a fantastic event that Tony did at no charge and had so much value!), and from there, made the decision to set aside time to attend UPW Virtual in March. Truth: I wish I would have done it sooner! I was in room #70 on the first day of the event, and room #31 on subsequent days. It was fantastic meeting so many different people virtually, and it's still great to be connected on Telegram. (I'm also up for staying connected via Zoom.) I've put together some links on this page for inspiration and convenience. Now, go and make your move!!
April 4th Update
I woke up this morning to see this beautiful update from Tony on Instagram. I couldn't believe my eyes and am so very happy for Tony and Sage!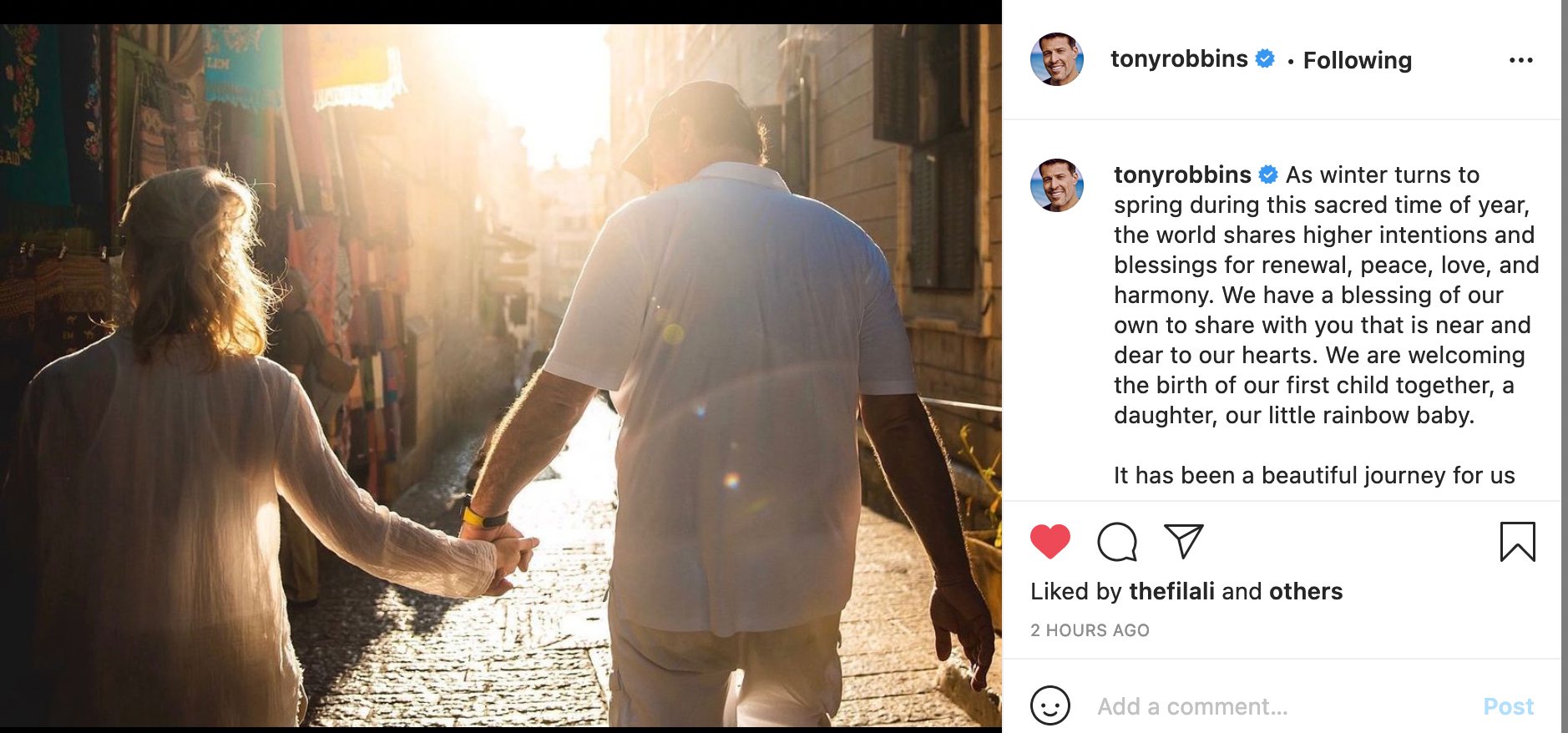 NOTES From UPW March 2021:
Starting Your Day Right by Priming
Behavior
DECISIONS
How do our decisions affect our ultimate life fulfillment? Live in a beautiful state for ultimate fulfillment! https://youtu.be/mznpcZkhHUg.
The 3 most important decisions we will make: https://youtu.be/QJ4sS3Uaq1k
Why we make the decisions we do: https://core.tonyrobbins.com/decisions/
EMOTIONS
FOCUS
Focus on Yourself: https://youtu.be/FvkCUAqQC18
Get Focused! Where focus goes, energy flows! https://youtu.be/Z6nv26BTzKA
Why Achievers Are Never Happy: https://youtu.be/iwRQ5eSRKrE
STAYING SHARP AT ANY AGE
Watch the interview Tony does with Dr. Gupta:
FULFILLMENT
Contribution: https://youtu.be/-OKk5qJNB4k
Contribution and Caring; Two Factors That Make a Difference: https://tr.tonyrobbins.com/value-add-video
Feel Good Now: https://youtu.be/6HL9Fm47POU
The Secret To An Extraordinary Life: https://vimeo.com/443205701
TRANSFORMATION
The Power of Transformation: https://youtu.be/yyEeug3eyiE
Transform Your Life in 7 Minutes: https://youtu.be/Kfg_iRAgw6U
QUALITY OF YOUR QUESTIONS = QUALITY OF YOUR LIFE
What is the number one question guiding your life? https://youtu.be/qpCE8yRikfA
Business
BUSINESS MASTERY
---
Month 2 | Elatia Abate | Hire Like The Rockstar You Are: https://vimeo.com/358136135
Month 3 | Gina Kloes | The 3 Leadership Mistakes That Destroy Teams: https://vimeo.com/359191473
Month 4 | John Corcoran | How To Get 10 Clients In 30 days: https://vimeo.com/360855958
Workbook: http://rise25.com/wp-content/uploads/2017/06/Rise25WorkbookActionGuide-10Clientsin30Days.pdf
Month 5 | Paul Siderovski | Managing Business Financials – https://vimeo.com/359194561
Career
How to find your true gift: https://www.youtube.com/embed/3UKTNCHzJGI
Dicken's Exercise
Financial
Future
Curious about the future? Listen to what Tony has to say:
Meet Sophia, the World's First AI Humanoid Robot: https://youtu.be/Sq36J9pNaEo
Health
Relationships
Resources
Tony's Free Resources: https://www.tonyrobbins.com/free-tools
Time Management | RPM
Power of Chunking: https://youtu.be/TamKCFejrPk
Three RMP questions to help you plan your life: https://youtu.be/0dTfBOfL-m4
Time Of Your Life: https://youtube.com/playlist?list=OLAK5uy_mxXmZXBm7CWa7CiWxbIb-LqLaGUfd4z2k
Why Timing is Everything: https://youtu.be/3BaYQ3dzSrE
Why We Do What We Do – TED Talk by Tony Robbins
Bonus Links